TODAY - Saturday, July 20th
Yes, the event is still going on. The loft has AC, no need to worry about the heat wave.
Yes, you can purchase tickets at the door.
This year Hellotittie welcomed DOUBLE the amount of Women Artists and even more ART--Canvas Paintings, Digital Print Outs, Photography, and Sculptures.
Plus this year we added talent! Spoken word, body movement, a short film screening, and a live musical performance!
Hellotittie joined Goddard Riverside's Community Art Program for W.H.A.M! Women History Artists Month to celebrate women creators! Check out this page, to learn more about our first Month-Long Gallery Event!
Art is an expression of our thoughts, emotions, intuitions, and creative desires. Our event Visual Artistry is an experience for our guests to meet the artists and see their vision of art in different forms. Our first show had canvas, photography and live painting. Art makes people think or consider things that they would rather not. It evokes an emotion in you, that is art. Check out the page to experience our show.
We're back for the 2nd Annual Creative Chicks an all-female art show curated by women and catered to women. Whoopi Goldberg attended this year, which was exhilarating! This really made our entire YEAR! Her showing her support for the artists.
October is Breast Cancer Awareness Month. We love giving back to this cause, this is our first year curating an art show promoting awareness to millennials.
Want to feel inspired and empowered? Then you should definitely attend one of our Girl Talks! This is event is open to both men and women, so we can all inspire each other.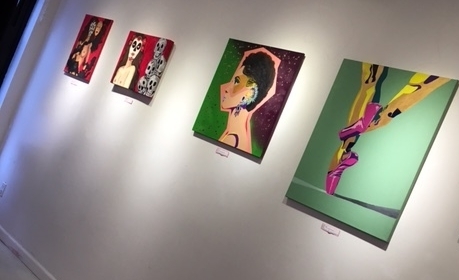 Creative Chicks is an all female art show created by women and catered to women, men are also welcome to attend. This event happens once a year, giving women artists a platform to show off there talents.